We provide short-term emergency assistance to residents of Forsyth and Stokes Counties who have a crisis situation and need rent/mortgage, utilities, food, or medication assistance.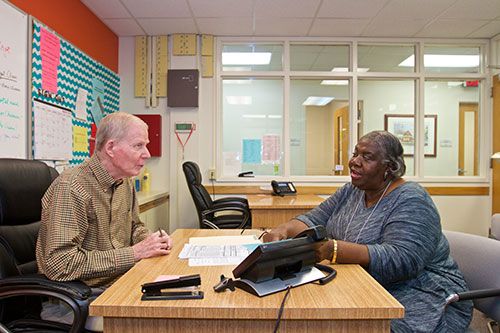 Clients are seen on a first-come, first-served basis. During our interview, we will verify the cause of the crisis and look to see that the client's income/expenses will return to normal in the near future. Crisis Control Ministry defines a crisis as something out of the ordinary that happened to you that was out of your control. Some instances of a verifiable crisis are, but are not limited to: job loss, reduced work hours by an employer, reduced work hours due to illness of you or your child, recent injury causing disability, car repair, housing condemned by the City or County, housing sold by the landlord, domestic abuse, loss of money due to theft verifiable by a police report, or increased medical expenses.
We conduct phone interviews for assistance as well as in-person interviews. Please call our Client Services phone line in Winston-Salem at 336.724.7453 or in Kernersville at 336.996.5401 to see if we are able to assist you.
To be interviewed and possibly assisted with your crisis, please be prepared with the following information in printed form to show why you are in a financial crisis:
Picture ID

Proof of crisis (ex. proof of hospitalization, doctor's note, car repair bill, etc.)

Proof of household income for last and current month

As many bills and receipts from last and current month as possible to show how the household money has been spent

Rent/mortgage, utility bill information (late notice, cut-off notice, and/or eviction notice)

Deposit information (If you have Section 8 housing, please bring proof of the inspection.)

If you receive disability benefits and have a payee assigned to you, the payee needs to be with you for the interview.

Written prescription or prescription bottle with refills still available if seeking medication assistance. We generally do not fill prescriptions for insured individuals and we do not fill any controlled substance prescriptions.
Providing as much information as you can will help us review your case quickly and may prevent the need for you to return with more information.
View our locations & hours in the footer of the web page for information specific to each office. Persons living in the zip code areas of 27107 and 27127 must first go to Sunnyside Ministries for assistance. Stokes County residents must first go to East Stokes Outreach Ministry and King Outreach Ministry for financial assistance. 
Click here to download a printable flier which details who we are, what we do, where we're located, when we're open and what to bring. This flier is in both English and Spanish.